Please note: Prices listed are for Australia only. International buyers, please contact us.
Practice at Home: Online video course
Practice at Home with Angela as she leads you through Tai Chi & Qi Gong exercises that you can perform in your own home. Videos are made available online and can be watched on any PC, tablet, Smart TV or other device capable of running YouTube. After completing your purchase, you'll receive an email with a private link to watch the videos you've purchased.
We have DVD's available that cover a range of Traditional Chinese Medicine, Tai Chi and Medical Qi Gong practices.
Our personal grooming products will compliment your appearance as well as support your well being and inner body health.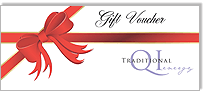 Show someone you really care about their health and well being with our Traditional Qi Gift Vouchers. They're perfect for things such as Facial Beauty Workshops, Tai Chi Retreats, Acupuncture, Massage or anything you like because you nominate the amount you wish to spend. Click the "Order" button below to place an order for the amount you want.
Subscribe to our newsletter
We'd love to stay in touch! Click the button below and enter your email address on our subscription page to keep up to date with all news, upcoming retreats and blog posts.